Fall 2013
At the Whitney opening some found their own iphone work more compelling than Robert Indiana's...

May 2013
I used to save page 3 in THE NEW YORK TIMES because the juxtaposition of photojournalism and advertising made formal design sense, ignored content and so reflected the direction of our culture. Here it is on nytimesonline.com: Syrian war refugees sharing space with a GUCCI Timepiece that invites us to explore the collection. The only change I made was to move the GUCCI ad from the side to just under the packaged bread where it blends.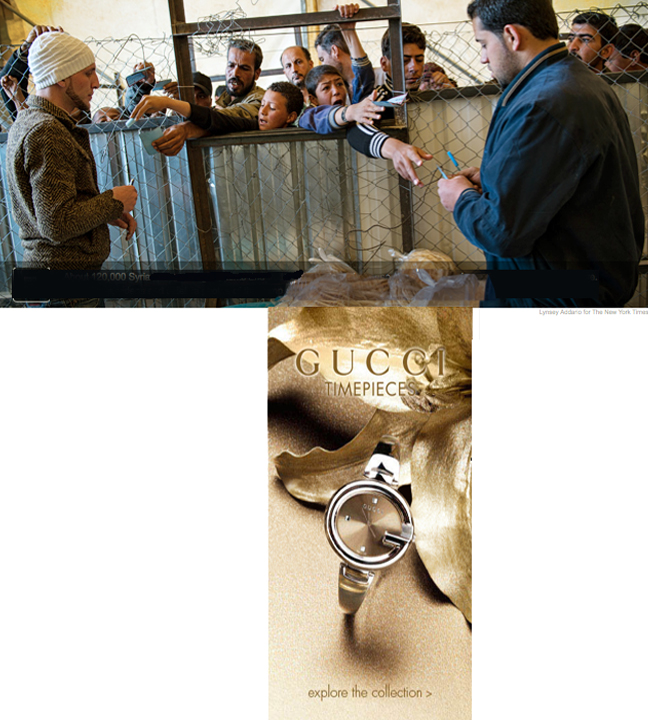 March 2013
Join the GLAMOROUS PHOTOGRAPHY PROFESSION
This hilarity bit via terrific artists Mark Peterson (markpetersonpixs.com) and Evelyn Chevallier (cerrochico.com) is my idea of brilliance.
Better legibility here: Le%20Journal%20de%20la%20Photographie.webarchive
Thomas Vanden Driessche
How to be a Photographer © Thomas Vanden Driessche
Thomas Vanden Driessche
How to be a Photographer © Thomas Vanden Driessche
How to be a Photographer
© Thomas Vanden Driessche
Le%20Journal%20de%20la%20Photographie.webarchive
August 2012
When i began photographing, Ernest Becker's book, DENIAL OF DEATH, was my non-photographic foundation. Then I forgot about it. A link found during my daily check-in at the gofreesyriablogspot.com was to a 2005 documentary, the link is below, about current science's validation of Becker's work: Flight from Death: THE QUEST FOR IMMORTALITY.
After many years, Becker again gave me a lifeline; his insights now guide my perspective of all conflicts, including those that result in the stupefyingly tragedy of Syria today.
A few early thoughts: when understood in the context of Becker's theory, no longer contradictory are the actions of Bashar Assad, a ruler destroying his nation in the interest of preserving his rule of it; and his wife's western consumer culture drives her buying of luxury goods while her husband is obliterating the suffering people financing her.
name="allowFullScreen"value="true">
src="http://www.hulu.com/embed/nhgyhoxp8gruippsujsamqq"type="application/x-allowFullScreen=
"true">
June and July
Momentous historical changes in Syria overshadow everything. I'm fixated by the 21st century taking shape as I devour the words and images. How to digest the awesome courage of people overcoming fear and suffering to challenge their well armed fascist government using modern war toys and torture of children to keep them in their place?
The ruling family and those they favor use Syria as their personal goldmine. Probably inspired by an "arab spring" aided by technology, the Syrian people recognized, and could no longer tolerate, the lack of dignity their lives had in a society that ignored their worth.
This is Mustafa Tlass, best buddy of Syrian Presidents. He followed the tradition of the ruling elite by educating one son in business, the other in the military. The military protects the business that robs the country. Mr. Tlass was not just an important military man himself, he wrote anti jewish books and had important french fascist friends. What strikes me about this picture is the way his medals seem to maintain for him the illusion of his importance, i.e. too important to die.



5/1-5/8
On Saturday, during Frieze Art Fair weekend I attended Chelsea gallery breakfasts but had no steam left for the Sunday trip to Randall's Island).
At PPOW was the inventive, intelligent kaleidoscopic video and sublime bride photographs of Hunter Reynolds. Here is Hunter continuing his exploration of life/death via performance.
3.24.12
Middle CollegiateChurch
The crucifix took centuries to become a common symbol of agony. In our time a practical fashion bit, a hoodie, became a potent symbol of suffering overnight. In hoodie wearing protests all over the United States people strike similar silhouettes to mirror the tragic slaying of the innocent hoodie wearing youth, Trayvon Martin.
Shot dead by an apparent self-appointed guard at a gated community in Florida, the 17 year old boy was black, the killer white so ipso facto, the murder is largely assumed to be a result of stereotyping black males as dangerous thus igniting the passion of several centuries of injustice.
The killing of an unarmed boy walking in the rain was the subject of the March 24th sunday service at the Middle Collegiate Church in New York City's East Village.
4.15.12 Peaceful Protest Training in upstairs room for approximatly 100 people. A few people joined with groups previously formed to target specific injustice. I sat with three working on stoppping the stop/frisk policy of the New York City Police Department.
I'm wondering how strong are the currents very slowly moving toward recognizing mutual responsibility, away from glamorizing power.